By Catherine MacRae
I was inspired to write this blog after listening to a recent webinar by Tom Goom (www.running-physio.com) on 'Lateral Hip Pain – 5 Mistakes that are ruining your results'
Chances are, if you are suffering with lateral hip pain (pain at the side of your hip), you may have Gluteal Tendinopathy. It can manifest as a severe, disabling pain directly over the Greater Trochanter (the bony prominence at the side of your hip), but can be successfully treated with an individualised treatment plan. So what should you expect from physiotherapy intervention with this particular problem?
Decreasing 'Compression' of the Tendon:
Gluteal Tendinopathy can be provoked by 'compression' of the Gluteal tendon insertion point at the bony Greater Trochanter. So our first goal is to decrease time spent in positions that increase this compression. It occurs when the hip is brought into positions of Flexion (Knee towards chest), adduction (Leg across the body), or Hip External Rotation (Outward Hip rotation). Examples of common 'Compression' positions are; crossing your legs in sitting, Gluteal stretches, Side sleeping with the affected limb upper most and across the body, and standing 'hanging' with hip off to the side.
Tendinopathy is often related to an overload episode, where the load that you are applying to the tendon, outweighs its capacity to cope. A reactive response then occurs within the tendon, which leads to pain and inflammation. Activities that involve the tendon going through its' Stretch shortening cycle (SSC) may need to be modified. This is where the tendon behaves like a spring, stretching then shortening to store and release energy. With the Gluteal Tendons these activities are usually walking & running. In the short term, you may have to modify the intensity and frequency of these activities, to assist in settling pain.
Low Level Activation Exercises:
Research has also shown that low level Gluteal activation exercises can assist with pain. With one of the main goals being to improve and maintain Tendon strength, starting to activate the Gluts in a tolerable way, not only starts the rehab pathway, but also can be relieving. Isometric exercise (Holding a static muscle contraction) has been found to reduce pain for up to 45 mins after a single session, and avoid any reduction in muscle strength. (Rio et al 2015)
Managing tendon pain is complex and one of our main goals as physiotherapists is to provide our patients with the confidence and the tools to take control of their rehabilitation. In fact a recent study has highlighted the importance of education as an essential part of Gluteal tendinopathy management.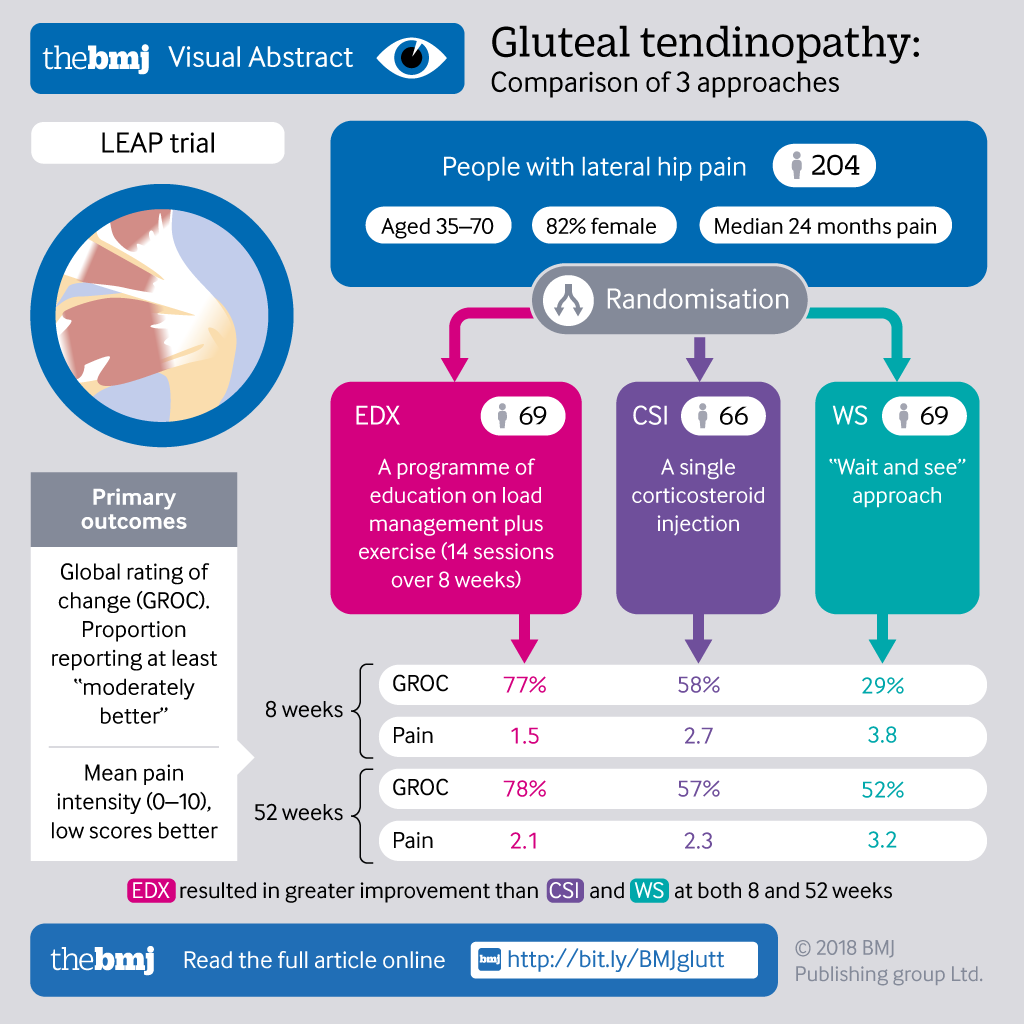 BMJ 2018;361:k1662
LEAP trial: Mellor et al 2018
204 patients with Gluteal tendinopathy were randomly assigned to 3 treatment groups; A program of education on load management, plus exercise (14 sessions over 8 weeks), A Corticosteroid injection, and a 'wait and see' group. The results showed that the Education group had better outcomes at 8 weeks and 52 weeks.
BMJ 2018;361:k1662
The Key Education messages that we want to get across to our Tendon pain clients are:
Tendons are Strong and Resilient, and will adapt and become even more robust with appropriate loading.
Pain is a reaction to increasing Loads and not necessarily Tissue Damage.
Our goal is to find the 'Sweet spot' with exercise and activity. Too little equals weakness and de-conditioning, and too much aggravates symptoms.
Progressive Rehabilitation Program:
Once we have determined what your individual goals are, a graduated Tendon loading program with be implemented, based on getting you to where you want to be.
As mentioned earlier, this may start with Isometric low level activation exercises, but gradually increase to heavy loading while monitoring for any irritability. Then, progressing to more challenging functional positions (e.g. Single leg squats, Single leg control, Fast movements, impact movements), and finally loading back into 'compressive' positions.
Once goals are achieved, a maintenance plan is an important final step. It will allow you to sustain the Tendons capacity to cope with load, and live well and Move well!
References:
Tom Goom (running-physio.com): Lateral Hip Pain – 5 Mistakes that are ruining your results.
Rio et al 2015: Isometric Exercise induces analgesia and reduces inhibition in Patella Tendinopathy.
Mellor et al 2018: Education plus exercise versus corticosteroid injection uses versus a wait and see approach on global outcome and pain from gluteal tendinopathy: prospective, single blinded, randomised clinical trial
Cook & Docking 2015: "Rehabilitation will increase the 'capacity' of your …insert musculoskeletal tissue here…." Defining 'tissue capacity': a core concept for clinicians